The latest MAPIR system upgrade was completed as of 1/5/18, and the EHRIP Team is standing by and ready to assist with the application submission process. As you navigate the Medicaid Portal to the "Connect to MAPIR" link and work on provider attestations, you may encounter error messages, missing links, MAPIR alerts, or general question on how to enter data correctly. Below is a round-up of frequently-asked questions that will be updated periodically.
---
Why can't I see a provider in the drop-down list in MAPIR to select their provider ID and start an application?
The EHRIP Team can research the provider's NPI to confirm that they are registered to receive Medicaid EHRIP payments with your organization. If they are, but you still cannot find the provider ID in MAPIR, the issue is usually with the Trading Partner ID association. You can confirm and resolve that by following the steps we have listed at our Troubleshooting webpage:
http://healthdata.vermont.gov/ehrip/Help/Access#2
For general assistance with Trading Partner ID questions, you can contact Medicaid Provider Services: (802) 879-4450 Option #3, or email vtedicoordinator@dxc.com
We are trying to attest for a provider, but we see in the CMS Registration and Attestation site that he is registered for Medicare, not Medicaid. The CMS R&A is not allowing me to switch the program affiliation to Medicaid. Can we do this?
No. The last year for a provider to switch from the Medicare to Medicaid EHRIP was before the application deadline for submissions for Program Year 2014.
We have a provider who is failing a Meaningful Use measure threshold. Patient volume and all other Objectives and Measures are being met. Do we complete an application in MAPIR anyway?
No. Meaningful Use is an all-or-nothing construct. If the provider does not meet the threshold for one of the objectives or measures, they will not meet the requirements for Meaningful Use, and they will not submit an application in MAPIR for an EHR Incentive Payment for the Program Year. They will be eligible to resume participation in the next Program Year.
Really? But they were so close! This provider is failing just one MU measure by less than 1%.
It is important to check to see if the measure in question is an objective that allows actions outside the 90-day EHR Reporting Period. For those providers challenged to meet revised, higher thresholds for certain Meaningful Use measures in Program Year 2017, remember that the data on certain actions can be included in the numerator even if the action occurred before, during or after the 90-day EHR Reporting Period (but within the calendar year). Each objective's specification sheet lists the information under the 'Additional Information' section of any objective that allows this. Click here for a complete list of Modified Meaningful Use Stage 2 and Stage 3 Objectives with links to the CMS Specification Sheets:
Actions Allowable Outside 90-Day Reporting Period (PDF, 480 KB)
One of our eligible providers left our employment and went to another practice in August 2017. The provider's new practice has taken him on as an Eligible Professional. Can we still submit a MAPIR application for him for Program Year 2017?
No. Eligibility for the EHR Incentive Program is provider-based, not practice-based. An Eligible Professional who leaves a practice retains their eligibility to participate in the EHRIP with their new practice or jurisdiction. Unless there is a specific authorized agreement between the provider and your practice for a Program Year 2017 EHRIP payment, you will not submit an EHRIP application in MAPIR on behalf of this provider.
When we checked the status of one of our providers, she was required to report under the MIPS Quality Payment Program. Upon checking more recently, she was NOT required to report under MIPS. Could that have changed?
Yes. MIPS is administered by CMS Medicare Quality Payment Program initiative, and reporting requirement determinations have to do with Medicare billing levels, among many other criteria. We advise folks to follow up with the MIPS Support Center regarding eligibility, policy and technical assistance: https://qpp.cms.gov/about/help-and-support
Are you able to determine if a provider coming to us from another state is eligible to receive a Medicaid EHR Incentive payment? We searched the CMS R&A site by name and NPI and could not find his record.
Yes, we are able to research his NPI, and this provider is eligible to receive a Medicaid EHRIP payment, but his Registration and Attestation information at the CMS site must be updated. He is accomplishing a State-to-State switch, and you will need to update his information at the CMS R&A site to align with your practice. If you need assistance to switch his affiliation from his old practice, you can contact the CMS R&A Helpdesk:
________________________________________
CMS Registration and Attestation Helpdesk
The CMS Registration and Attestation website maintains The Electronic Health Record (EHR) Information Center to assist providers will all of your registration and attestation system inquiries.
EHR Information Center Hours of Operation:
    7:30 a.m. – 6:30 p.m. (Central Time) Monday through Friday, except federal holidays.  
    1-888-734-6433* (primary number) *(press option 1) or 888-734-6563 (TTY number)
________________________________________
One of our providers is scheduled to receive his third Medicaid EHRIP payment. However, he has been out since June, so we will not attest for him for Program Year 2017. Can his year-three EHRIP payment be next year?
Yes, Eligible Professionals (but not Eligible Hospitals) may continue to skip years in the Medicaid EHRIP. If this provider will not attest for Program Year 2017, he can resume participation and apply for a third-year payment in Program Year 2018.
I have completed a provider's attestation, and submitted it in MAPIR. But I then discovered an error in the data I entered. I can't access the application to correct it. What should I do?
The EHRIP Team can put the application back into "Incomplete" status so you can correct the data and resubmit the application. Just send an email to: ahs.dvhaEHRIP@vermont.gov
I am getting ready to attest and it looks like to update the CMS EHR ID I have to log into the CMS registration and attestation website. Typically is this something  that needs to be done each year for each provider? 
No. As explained on page 20 of the EP User Guide Part 1, the R&A Verification screen in MAPIR will ask the preparer or provider to confirm that the information at the CMS Registration and Attestation site for the Eligible Professional is correct. The information on this screen is populated from the data feed that is sent directly from CMS. The fields on this screen are not interactive, and you cannot alter the information that is displaying. You can only answer "Yes" or "No" to the question "Is this information accurate?" at the bottom of the screen.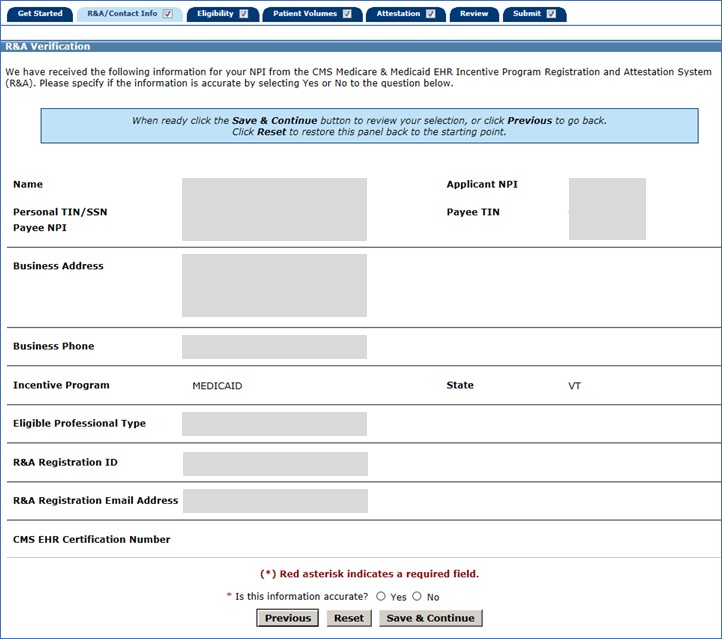 The "CMS EHR Certification Number" on this screen may be blank OR may show an obsolete CEHRT ID that was used for this provider's most recently-paid EHRIP application from a previous Program Year, OR the most recently-updated information at the CMS R&A site.  
If you answer "No," MAPIR will warn that the information needs to be corrected at the CMS R&A site. You will NOT be able to move past this screen as long as the "No" is selected.

If a new, updated CEHRT ID (different than the one displaying on this screen) was entered in order to start this application, it will be saved and will automatically update the CMS R&A site information when the application is submitted and processed.
Therefore, if the provider is attesting to using a new CEHRT ID in Program Year 2017, due to a system upgrade or vendor switch, you DO NOT have exit this screen to update the CEHRT ID at the CMS R&A site. If all other  information on this screen is correct except for the CMS EHR Certification Number, you may choose the "Yes" button and "Save & Continue."
If any other information on the screen requires correction EXCEPT for the CEHRT ID, you will need to access the provider's information at the CMS R&A site to ensure that the NPI, Payee NPI, Payee TIN, contact email, etc. is accurate. Please note that It will take 24 to 48 hours for edits to propagate through from the CMS system to the MAPIR system. DO NOT make any other changes at either the CMS R&A site or in MAPIR until the information is updated. Every time a change at the CMS R&A site occurs, the clock is re-set on the time it takes for the provider's MAPIR application to be updated.
A recent email notification reminded us we are in Program Year 2018 now. When it is time to report on 2018 requirements, will we still be using a 90-day reporting period?
In Program Year 2018, all providers will once again be attesting to a minimum 90-day EHR Reporting Period for the Meaningful Use Objectives and Measures.
The Program Year 2018 Reporting Period for Clinical Quality Measures has NOT been finalized. Further rulemaking will be required to establish the 2018 CQM reporting period, and we will keep our program participants updated with that information when it becomes available.
Stage 3 of Meaningful Use will be required for Program Year 2018, right?
No, Stage 3 will not be required: all providers will continue to have the option to attest to Modified-Meaningful Use Stage 2 Objectives and Measures once again in 2018. Providers who elect to attest to Stage 3 must have upgraded to a 2015 CEHRT that supports the criteria.
I'm logged into the Vermont Medicaid Portal, but I cannot see the "Connect to MAPIR" link. I was just working with a provider's application yesterday. What is happening?
A system issue prevented the link from showing. Sometimes a glitch happens, and the first we know about a system failure is your email reporting trouble. One recent morning, we received several mails within a couple of hours all reporting the same issue: inability to see the "Connect to MAPIR" link. We were able to follow up with our technical partners and the issue was resolved. Keep sending us messages regarding any technical issues or problems you may have!
If there are no reported system issues, and you still cannot see the "Connect to MAPIR" link, please follow these steps to resolve:
http://healthdata.vermont.gov/ehrip/Help/Access#2
And, of course, you can contact the EHRIP Team: ahs.dvhaEHRIP@vermont.gov
We received a 3% penalty letter for a provider who attested for Program Year 2016...was there an issue with the application?
The provider was paid for a Medicaid EHRIP application for Program Year 2016, but for Adopt/Implement/Update. The provider did not meet Meaningful Use, and only attesting to and meeting Meaningful Use in PY2016 would hold a provider harmless from Medicare Payment Adjustments in Calendar Year 2018, unless a hardship application was approved.
PLEASE NOTE: The Medicare EHR Incentive Program has ended. If providers remain eligible for the Medicaid EHRIP, they may ALSO be required to report to the Medicare Quality Payment Program (QPP) initiatives, including MACRA/MIPS, in order to avoid Medicare Payment Adjustments. Going forward, a provider can receive an incentive payment from the Medicaid EHRIP, but in order to avoid Medicare Payment Adjustments on their Medicare billing, they will need to comply with MACRA/MIPS reporting requirements. Meeting Meaningful Use in the Medicaid EHRIP will NOT hold providers harmless from Medicare Payment Adjustments any longer. Not all providers are required to report to the QPP. You can check a provider's reporting requirement status here: https://qpp.cms.gov/
When entering a provider's 90-day patient volume I have selected "Calendar Year Preceding Payment Year." I am trying to use 1/1/2017 as the start date, but MAPIR won't let me. The error message indicates "The date you have specified is invalid." What am I doing wrong?
When selecting the Patient Volume option "Calendar Year Preceding Payment Year," you need to choose a 90-period from 2016. In this particular instance, the CMS wording of "Payment Year" was extremely confusing. It should really say "Program Year." The Calendar Year preceding Program Year would be 2016. The MAPIR Collaborative has recognized this confusion for a while, but we are finally fixing the wording in an upcoming MAPIR system upgrade. For this option, you would enter a start date from 2016, and ensure that the 90-day period does not overlap any dates with the provider's 90-day Patient Volume period from their Program Year 2016 attestation, if relevant.
If you instead choose to select a 90-day Patient Volume Period that is "12 Months Preceding Attestation Date," you would still be unable to select 1/1/17, as that date falls BEFORE the allowable time period. Using this option for Patient Volume time period means the earliest start date is always in flux. We advise folks using this option to select a start date well into the calendar year – any time after 7/1/17 is safest.
PLEASE NOTE: The 90-day patient volume period is not tied to the 90-day EHR Reporting Period. The 90 days during which a provider is meeting their Meaningful Use criteria can be any contiguous 90 days within 2017. The start date of 1/1/17 is perfectly fine for the EHR Reporting Period for a Program Year 2017 attestation.
You can get more information and illustrations on how to correctly configure Patient Volume time periods with our guidance, complete with colorful charts and graphs:
http://healthdata.vermont.gov/ehrip/PatientVolume#90DayPVperiod
---
Back to the Vermont Medicaid EHRIP Help: Questions and Assistance Page
Back to the Vermont Medicaid EHRIP Home Page
(Page last updated 02/08/18)