Vermont Medicaid PIP/EHR Incentive Program Cumulative Payment Report
This report illustrates the total dollar amount of payments made to date for all Eligible Hospitals and Eligible Professionals. (Click on the image below to open in a separate PDF document.)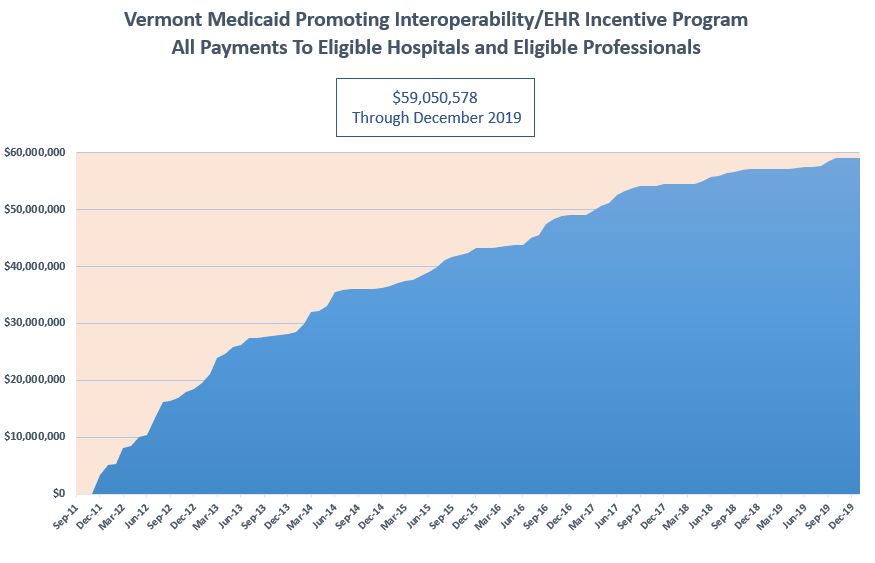 ---
2019 PIP/EHRIP Annual Report
The 2019 Annual Report uses a CMS-prescribed format and satisfies the annual reporting requirements for payments made by the Vermont Medicaid Promoting Interoperability/EHR Incentive Program.
This report contains federally-defined, aggregate Meaningful Use (MU) and Clinical Quality Measure (CQM) data for all Medicaid EHR incentive payments made by the State of Vermont to Eligible Professionals from the program's inception through March 31, 2019.
The following documents provide references for the relevant Meaningful Use measure definitions and CQM definitions:
---
Data and Program Reports at CMS.gov
Here's where you'll find Medicare and Medicaid Electronic Health Records Incentive Program payment and registration data in report form, published by the Centers for Medicare and Medicaid Services.
---
State Medicaid Health Information Technology Plan (SMHP)
Many States have been moving toward interoperable health care technology and health information exchange for the last several years. The American Recovery and Reinvestment Act of 2009 (Recovery Act) health information technology (HIT) provisions afford States and their Medicaid providers with a unique opportunity to leverage these existing efforts to achieve the vision of interoperable information technology for health care. State Medicaid agencies play a critically important role in fulfilling that vision.
The State Medicaid Health Information Technology Plan (SMHP) is a Medicaid HIT vision document that includes clear targets and measurable outcomes related to advancing interoperability of Health Information. In addition, the plan contains other information the State decided would be useful in communicating with CMS on how it plans to implement the required provisions. The SMHP contains four major components: a current landscape assessment, a vision of the State's HIT future, specific actions necessary to implement the incentive payments program, and a HIT road map. This deliverable is the "plan" to determine how the incentive payments will be administered. It is not the implementation of such plan. The SMHP was developed by the State Medicaid agency after consulting with key stakeholders across the State.
---
For questions, contact the Vermont PIP/EHRIP Team at ahs.dvhaEHRIP@vermont.gov
Back to the Vermont Medicaid PIP/EHRIP Home Page
(Page last updated 11/20/2020)