---
Payments to Eligible Providers
This report is updated monthly, and  lists all Eligible Hospitals and Eligible Professionals that received a Vermont Medicaid EHR Incentive Program payment for each Program Year. Each posted update is a cumulative, full replacement for all previously posted files.
PaidProviderList_20180207  (.xls, 473 KB)
---
Vermont Medicaid EHR Incentive Program Cumulative Payment Report
This report illustrates the total dollar amount of payments made to date for all Eligible Hospitals and Eligible Professionals. (Click on the image below to open in a separate PDF document.)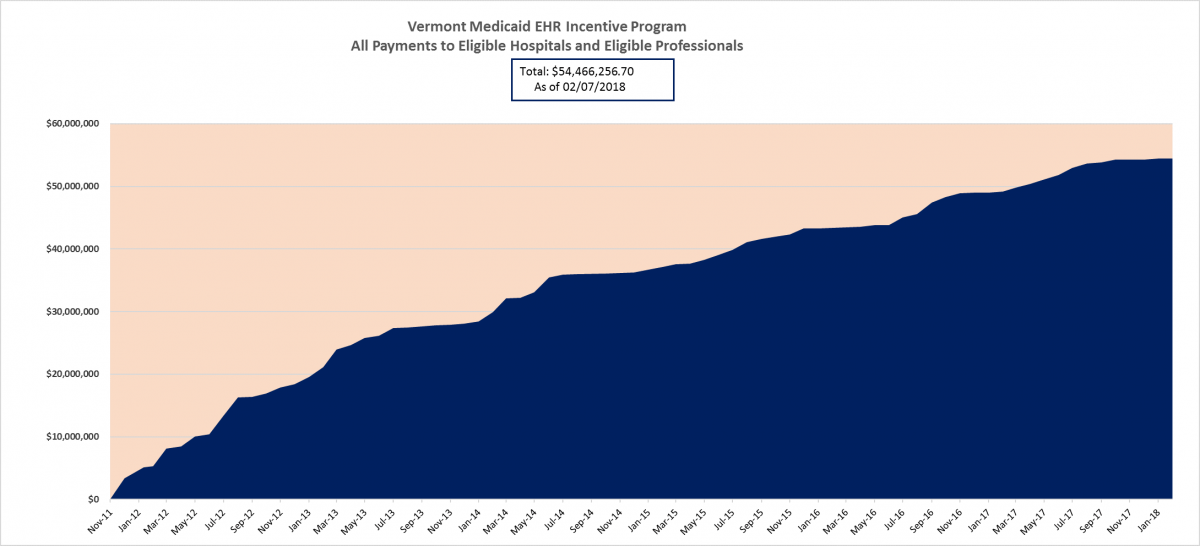 ---
CY2017 VT Medicaid EHRIP Annual Report
The 2017 Annual Report uses a CMS-prescribed format and satisfies the annual reporting requirements for EHR Incentive Payments as defined by Federal Rule.
This report contains federally-defined, aggregate Meaningful Use (MU) and Clinical Quality Measure (CQM) data for all Medicaid EHR incentive payments made by the State of Vermont to Eligible Professionals from the program's inception through March 31, 2017.
The following documents provide references for the relevant Meaningful Use measure definitions and CQM definitions:
---
Data and Program Reports at CMS.gov
Here's where you'll find Medicare and Medicaid Electronic Health Records Incentive Program payment and registration data in report form, published by the Centers for Medicare and Medicaid Services.
---
Back to the Vermont Medicaid EHRIP Home Page
(Page last updated 06/07/2018)