---
 EH Patient Volume
Cost Data Report Calculator Tool
---
For Eligible Hospitals applying for a Vermont Medicaid EHR incentive payment, preparers must complete the calculator tool which references the specific cost data reporting elements needed to support an attestation (click the image below to open the document in a new window).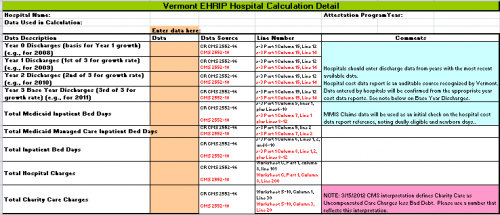 Screenshot of EH Cost Data Calculator Tool - First Tab
The Excel spreadsheet document has four tabs. On the first tab, named "VT Hospital Calculation Master," the highlighted column calls for nine data items. This is the worksheet you will enter your data. The other three tabs display sample data examples calculated for 'High Discharges,' 'Mid-Range Discharges' and 'Low Discharges.'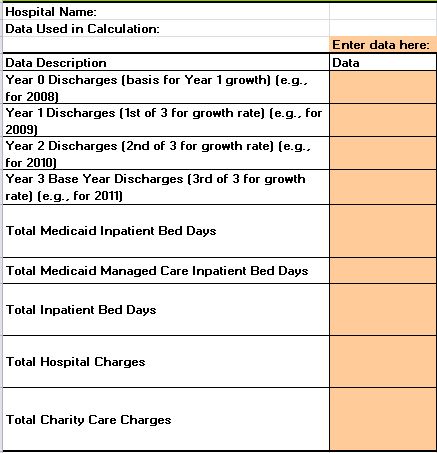 Screenshot detail of Data Input column in first Worksheet: "VT Hospital Calculation Master"
The required data sources for the calculation's inputs are described in the adjoining column of the spreadsheet, and are specified by CMS in the Frequently Asked Question (FAQ) #3471.
The spreadsheet automatically calculates the data, and displays an estimated payment at the bottom of the page. The second, third and fourth tabs of the spreadsheet show the sample "3-Year Vermont Incentive Payouts" for hypothetical high, mid-range and low discharges.
Please note that in a 3/15/2012 CMS Hospital Community of Practice call there was a refinement of what is meant by "Charity Care." A previous interpretation seemed to allow using the 'uncompensated care' line item from the cost data report. A more recent CMS interpretation is that bad debt must be removed from uncompensated care to arrive at charity care. We require hospitals to use this updated interpretation.
We require documentation to be part of the attestation, and instructions on uploading files are on pages 134 and 145 of the latest MAPIR User Guide for Eligible Hospitals, available here. Required documentation includes:
A completed version of the attached spreadsheet. (We use this to compare the payment generated by the MAPIR system with the calculator estimate, for verification.)
Proof of ownership of a certified EHR system (PO; invoice; comparable document);
If the hospital is already certified for MU on the Medicare side for the same Program Year, a copy of the Medicare status indicating acceptance of the Medicare MU attestation;
Copies of the pages from the Medicare cost data reports which support the cost data numbers for the attestation.
The calculator spreadsheet is used to compare the payment generated by the system with calculator estimate, and should be sent to the Vermont EHRIP team when completed: ahs.dvhaEHRIP@vermont.gov. Feel free to contact us at that email address as you proceed with your EH attestation.
DOWNLOAD THE CALCULATOR SPREADSHEET TOOL
---
Please consult our Patient Volume page, with a collection of the rule references relating to Medicaid Encounters and patient volume calculations for both EPs and EHs. Look for the blue-highlighted text here:
http://healthdata.vermont.gov/ehrip/patientvolume#RuleReferences
---
For questions, contact the Vermont EHRIP Team at ahs.dvhaEHRIP@vermont.gov
Back to "Vermont Medicaid EHRIP Application Process"
Back to the Vermont Medicaid EHRIP Home Page
(Page last updated 03/14/16)