---

    Receive notification of program updates to your inbox: send your request to ahs.dvhaEHRIP@vermont.gov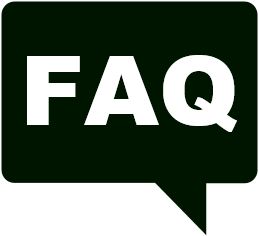 Check out our Frequently Asked Questions

    Find a list of our past EHRIP email communications at our Archived Announcements
---
Program Year 2017 application processing is underway, and will be prioritized in the order the attestations were submitted. You can help expedite the process by responding promptly to any requests we make for additional information or documentation.  
---
CMS CHANGES THE NAME OF THE ELECTRONIC HEALTH RECORD INCENTIVE PROGRAM (Posted 05/21/18)
The Medicaid Electronic Health Record Incentive Program is now called the Promoting Interoperability Program. With the release of the latest proposed rule,  CMS announced it is aligning and streamlining the EHRIP to move the program beyond the existing requirements of Meaningful Use (MU) to a new phase of EHR measurement focused on interoperability and improving patient access to health information.  To better reflect this focus, CMS is renaming:
The 'EHR Incentive Programs' to the Promoting Interoperability (PI) Program for eligible hospitals, critical access hospitals, and Medicaid eligible professionals;  
The 'MIPS Advancing Care Information performance category' to the Promoting Interoperability Performance Category for MIPS eligible clinicians.
As CMS implements the program name change to the Promoting Interoperability Program you may notice that CMS webpages have Promoting Interoperability (PI) Program is some places and the Electronic Health Record Incentive Program name in other places.  For now the actual links to CMS appear to be the same.
Please note: This rebranding does not merge or combine the EHR Incentive Programs and MIPS. In the coming weeks, the Vermont Medicaid EHR Incentive Program will be updating its websites and educational resources to reflect this change.  As always, we will keep you informed of any changes.  You will begin to see the new name in correspondence, including subject lines in email messages.
Although our Medicaid EHRIP/Promoting Interoperability Program has had a name change, the program requirements and objectives will not change immediately. CMS is working to align the Medicare and Medicaid programs, but this transition has not occurred yet.  For now, remember these helpful tips:
When you visit the CMS website for specification sheets and program information, make sure that you are on the Medicaid Promoting Interoperability Program page. 
You will begin to see the new name referenced in communications, but remember, it is the same program.
MORE ON THE CMS PROPOSED RULE (Posted 05/21/18)
In the 4/24/18 rule release, CMS proposed updates to the Medicare and Medicaid EHR Incentive Programs, electronic clinical quality measures, and other CMS initiatives in the Inpatient Prospective Payment System (IPPS) and the Long-Term Care Hospital (LTCH) Prospective Payment System (PPS) Notice of Proposed Rulemaking (NPRM) and Request for Information.  The deadline for submitting comments on the proposed rule and the RFI is June 25, 2018.
Summary of NPRM Impacting the Medicaid EHR Incentive Program:
Overhaul the Medical Assistance Electronic Health Record Incentive Program to focus on Interoperability (therefore, the name change);
Beginning with the Program Year 2019 reporting period, require providers to use 2015 Edition of CEHRT;
For Program Year 2019 and 2020 respectively the EHR Reporting Period would be 90-days;
Includes proposals for new measures including Query of the Prescription Drug Monitoring Program (PDMP) and Verify Opioid Treatment Agreements;
Includes proposals to remove measures that do not emphasize interoperability and electronic health information exchange.    
For a fact sheet on the proposed rule (CMS-1694-P), please visit: 
https://www.cms.gov/Newsroom/MediaReleaseDatabase/Fact-sheets/2018-Fact-sheets-items/2018-04-24.html
To view the proposed rule (CMS-1694-P), please visit:
https://www.federalregister.gov/public-inspection/current
Vermont will be contributing comments with the MAPIR Collaborative. If you would like to provide us with feedback to include in the comments, please email us at ahs.dvhaEHRIP@vermont.gov.
FACT SHEET: LEARN MORE ABOUT THE PREVENTION OF INFORMATION BLOCKING ATTESTATION (Posted 05/21/18)
When attesting in the Vermont system, Objective 0 – ONC Attestation Questions accommodates the requirements for  the Prevention of Information Blocking Attestation.  In 2017, MACRA and the Quality Payment Program (QPP) final rule required eligible professionals and eligible hospitals that participate in both the Medicare and Medicaid EHR Incentive Programs to show that they haven't knowingly and willfully limited or restricted compatibility and interoperability of CEHRT.  Consult this Fact Sheet to learn more:
https://www.cms.gov/Regulations-and-Guidance/Legislation/EHRIncentivePro...
2019 ELECTRONIC CLINICAL QUALITY MEASURES (eCQMS) HAVE BEEN UPDATED (Posted 05/21/18)
The electronic clinical quality measures (eCQMs) for Eligible Professionals and Eligible Hospitals have been updated.  Visit the eCQI Resource Center Website to learn the details.  Each year CMS updates eCQMs that have been adopted for submission to the Promoting Interoperability Program (also known as the Electronic Health Record (EHR) Incentive Program and other CMS quality reporting programs. Check here for the annual updates:
Eligible Professaional: https://ecqi.healthit.gov/eligible-professional-eligible-clinician-ecqms
Eligible Hospital: https://ecqi.healthit.gov/eligible-hospital-critical-access-hospital-ecqms
IMPORTANT UPDATES TO PROGRAM YEAR 2018 EHRIP REQUIREMENTS: FULL-YEAR REPORTING PERIOD FOR CQMs (Posted 04/05/18)
CMS recently sent an email to State Medicaid EHR Incentive Programs that included links to the latest guidance for Program Year 2018 reporting requirements. The links have not yet been posted on the CMS Program Year EHRIP webpage, but they are listed below, and also posted at the Vermont Medicaid EHRIP website.
PLEASE NOTE: CMS has clarified that a Full Year Reporting Period will required for PY2018 CQMs. Providers may continue to use a 90-day Reporting Period for Meaningful Use Objectives and Measures in PY2018.
YOUR FAQs ANSWERED (Updated 04/05/18)
As you navigate the Medicaid Portal to the "Connect to MAPIR" link and work on provider attestations, you may encounter error messages, missing links, MAPIR alerts, or general question on how to enter data correctly. Click the link to review a round-up of frequently-asked questions from emails and phone calls we receive:
Vermont Medicaid EHRIP FAQs
IMPORTANT: PROVIDER MEDICAID ACTIVE STATUS (Posted 01/05/18)
If an Eligible Professional's Vermont Medicaid enrollment lapses at any time after an application is started and BEFORE A PAYMENT IS RECEIVED, the application will automatically abort from the MAPIR system. The attestation must then be restarted from the beginning in MAPIR after the EP becomes fully re-enrolled in Vermont Medicaid.
MAPIR USER GUIDES (Posted 01/05/18)
Before proceeding with an application in MAPIR, download and review the helpful User Guides. As you step through the screens in the MAPIR system, the User Guides provide additional explanation, illustrated hints, navigation tips, and documentation forms. Reviewing the User Guide will help you organize the reports and data needed for attestation. Assembling this information ahead of time will maximize your productivity when you are logged into the MAPIR system.
The MAPIR 6.04 User Guides for Eligible Professionals are separated into four files:
Part 1 - Getting Started, Confirm R&A and Contact Info, Eligibility, Patient Volumes  (PDF 2.2 MB; Updated 1/05/18)
Part 2C (PY2017) - Attestation Phase, MU General Requirements, MU Objectives, CQMs  (PDF 4.6 MB; Updated 1/05/18)
Part 3 - Review; Questionnaire; File Uploads; Required Documentation; Submission; Status information; Adjustments  (PDF 1.3 MB; Updated 1/05/18)
Part 4 - Additional User Information, Appendices (PDF 540 MB; Updated 1/05/18)
LOGGING INTO MAPIR (Posted 01/05/18)
MAPIR is accessed through the Vermont Medicaid provider secure web portal:
https://www.vtmedicaid.com/secure/logon.do
Providers must be properly identified in the Vermont Medicaid system. In addition, there must be a relationship between:
The preparer (the person attesting on behalf of the provider);
The login User ID for the Medicaid Provider Portal, and;
The providers' information within the Medicaid system.
Aligning this information is necessary in order to proceed in MAPIR. Some providers and preparers have experienced common issues in accessing the MAPIR system as a result of issues with provider information alignment.
A troubleshooting guide and contact information for solving for these common MAPIR access issues is available here:
http://healthdata.vermont.gov/ehrip/help/access
QUESTIONS ABOUT PY2017 REQUIREMENTS? ASK THE EHRIP TEAM! (Posted 12/08/17)
If you have any questions related to provider applications for Program Year 2017, schedule a session with the EHRIP Team. We have a  short refresher on the changes related to Program Year 2017 requirements, plus you can ask us about issues specific to your practice: provider eligibility, patient volume strategies, etc. We have a 30-minute presentation we would be happy to schedule with you: contact us at ahs.dvhaEHRIP@vermont.gov
The outline of the review is as follows:
Changes Resulting from the August 2017 IPPS Rule from CMS

EHR Reporting Periods for MU Objectives and CQMs are 90 Days for All Providers
Changes to Clinical Quality Measures for EPs
CEHRT Flexibility and Extension of MU Stage 2 for PY2018

Changes to Meaningful Use Objectives in 2017 as Compared to 2016

Objective 1, Protect ePHI: SRA conducted or reviewed by 12/31/17
Objective 8, Measure 2, Patient Electronic Access: Threshold Change
Objective 9, Secure Messaging: Threshold Change
Objective 10, Option 1, IZ Reporting: Ongoing Documentation Requirements
Objective 10, Option 3A, Specialized Registry Reporting: No More Alternate Exclusion
ONC EHR System Surveillance and Review Activities: "Objective 0"

CMS Specification Sheets for PY2017 Objectives
Other CMS Guidance and Resources for PY2017
VT Medicaid EHRIP Audit Tip Sheet - Updated
Are your providers required to participate in the Medicare Quality Payment Programs (MACRA/MIPS)?
Questions and Contact Information
OBJECTIVES THAT ALLOW ACTION TO OCCUR OUTSIDE OF THE 90-DAY EHR REPORTING PERIOD (Posted 12/08/17)
For those providers challenged to meet revised, higher thresholds for certain Meaningful Use measures in Program Year 2017, remember that the data on certain actions can be included even if the action occurred before, during or after the 90-day EHR Reporting Period (but within the calendar year). Each objective's specification sheet lists the information under the 'Additional Information' section of any objective that allows this. The following objectives for Modified Stage 2 in Program Years 2017 and 2018 include this option:
Objective 1 - Protect Patient Health Information
Objective 5 - Health Information Exchange
Objective 6 - Patient-Specific Education
Objective 8 – Patient Electronic Access; Measure 2 – Patient View/Download/Transmit
Objective 9 - Secure Electronic Messaging
In order to provide the necessary documentation to support inclusion of the data, the EHRIP Team requests a data file that verifies that the action that occurring outside the EHR Reporting period during the calendar year is valid for a patient seen during the 90-day EHR reporting period. For guidance on documenting and reporting data, please contact the Vermont Medicaid EHRIP Team: ahs.dvhaEHRIP@vermont.gov. A complete listing of Meaningful Use measures for Modified-MU2 and MU3 in 2017 and 2018 is available here:
http://healthdata.vermont.gov/sites/healthdata/files/pdfs/EHRIP/ActionsA...
MERIT-BASED INCENTIVE PAYMENT SYSTEM - MIPS (Posted 12/08/17)
The U.S. Department of Health and Human Services has implemented the Merit-Based Incentive Payment System (MIPS) and the Advanced Alternative Payment Model (APM) incentive payment provisions in the Medicare Access and CHIP Reauthorization Act of 2015 (MACRA), collectively referred to as the Quality Payment Program. MIPS applies to physicians and clinicians providing services under Medicare Part B. Any providers that bill Medicare Part B and are required to submit data to MIPS, can continue to participate with the Medicaid EHR Incentive Program until the maximum six payments are received or until the final Program Year of 2021. Submission of Meaningful Use data to the Medicaid EHR Incentive Program does not fulfill the MIPS reporting requirements. MIPS does not replace the Medicaid EHR Incentive Program, which will continue through Program Year 2021.  Providers that are eligible for the Medicaid EHR Incentive Program will continue to attest in Vermont's MAPIR system to receive their incentive payments. More information about the Medicare Quality Payment Program is available here: QPP@cms.hhs.gov and the QPP Helpdesk number: 1-866-288-8292.
PUBLIC HEALTH DOCUMENTATION AID UPDATED FOR PY2017 MODIFIED-MU2  (Updated 12/08/17)
The Public Health Documentation Aid contains screenshots of the three Public Health Meaningful Use Measures as they appear within the MAPIR attestation environment, keyed with spaces to provide additional information for the measures met or the exclusions qualified for. The Documentation Aid, when emailed or uploaded at the time of attestation along with the supporting documentation, will facilitate the application review process, and will also help provide the information that would be requested in the event of an audit:
Program Year 2017 EPs Attesting to Modified MU Stage 2
UPDATED VERMONT MEDICAID EHRIP AUDIT TIPSHEET  (Updated 12/08/17)
The VT EHRIP Audit Team has updated their helpful Eligible Professional Audit Tip Sheet based on their activities and experience with reviewing provider records. Remember, the best time to prepare for an audit is during the attestation process. Download and consult this guidance as you prepare and submit your EHRIP attestation.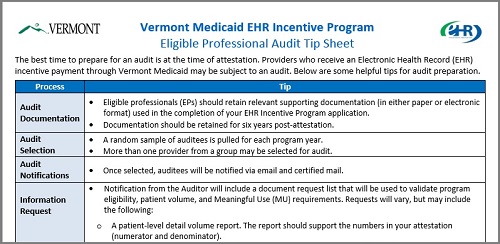 THE BLUEPRINT VERMONT CLINICAL REGISTRY IS A SPECIALIZED REGISTRY  (Updated 12/08/17)
Eligible Professionals at practices participating in the Vermont Blueprint for Health may use their engagement with Blueprint's Vermont Clinical Registry to meet the Specialized Registry reporting option for the Public Health Objective. A significant number of Blueprint practices send their data through VITL's Health Information Exchange where it then flows to the Vermont Clinical Registry. If you have any questions about whether you qualify for registering, onboarding or reporting data to this registry for meeting the Specialized Registry reporting measure in 2017, please do not hesitate to contact the EHRIP Team: ahs.dvhaEHRIP@vermont.gov
MEANINGFUL USE STAGE 3  (Updated 12/08/17)
Stage 3 of Meaningful Use is an option for the first time in 2017 for those providers who have upgraded their Certified EHR Systems to the 2015 Edition, or are using a combination of 2014 and 2015 CEHRT.  Providers attesting with the Vermont Medicaid EHR Incentive Program in Program Year 2017 who will be meeting Stage 3 criteria will wait until the spring of 2018 to start their attestations. We will alert our program participants when MAPIR upgrades are complete and Stage 3 screens are configured with the correct options. More information about Stage 3 criteria can be found at the CMS Website:  MU3 Guidance for Medicaid EHRIP.
---
An archive of previously issued VT Medicaid EHRIP Announcements is available here.
---
For questions, contact the Vermont EHRIP Team at  ahs.dvhaEHRIP@vermont.gov
Back to the Vermont Medicaid EHRIP Home Page
(Page last updated 05/21/2018)